Billy Mitchell and Bob Fox are getting back together to tour in 2021.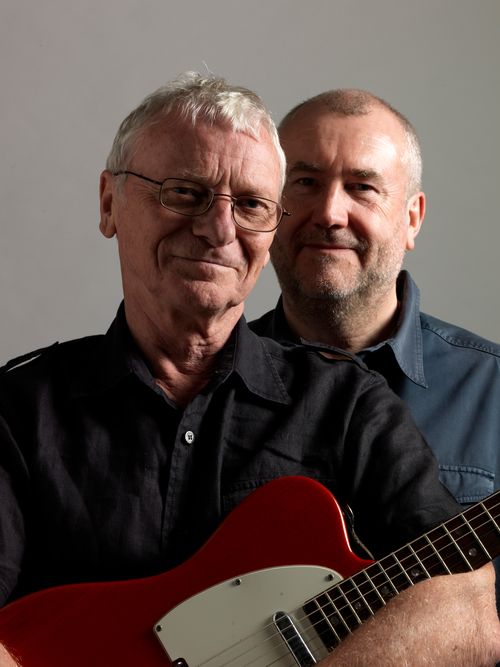 THE PITMEN POETS RIDE AGAIN
AFTER LOTS OF REQUESTS WE HAVE DECIDED TO EMBARK ON THE FINAL, NEVER TO BE REPEATED, ONE AND ONLY LAST FAREWELL TOUR WITH THE PITMEN POETS IN OCTOBER/NOVEMBER 2022
OCTOBER 2022 
Sat 1st DERBY Festival
Sun 2nd DERBY Festival
Wed 5th PETERBOROUGH Key Theatre Tel: 01733 552439   website
Thurs 6th ILKLEY  Kings Hall Tel: 01274 432000 website
Fri 7th CONSETT Empire Theatre Tel: 03000 262400 website 
Sat 8th BUXTON  Pavilion Arts Centre Tel: 01298 72050 website
Sun 9th HUNSTANTON Princess Theatre Tel: 01485 532 252 website
Wed 12th LOUGHBOROUGH Town Hall Tel: 01509 634915 website
Thurs 13th WORCESTER  Huntingdon Hall Tel: 01905 611427 website
Fri 14th NEWARK  Palace Theatre Tel: 01636 655755 website
Sat 15th NEWHAMPTON 
Sun 16th DARLINGTON   Hippodrome Tel: 01325 405405 website
Wed 19th RUNCORN  Brindley Studio Tel: 0151 5118673 website
Thurs 20th CORBY  The Core at Corby Cube Tel: 01536 470470 website
Fri 21st FLEETWOOD  Marine Hall Tel: 01253 887585 website
Sat 22nd WHITLEY BAY  Playhouse Tel:  0191 251 5484 website
Sun 23rd DURHAM   Gala Theatre Tel: 03000 266600 website
Tues 25th LIVERPOOL  Philharmonic Music Room Tel: 0151 2102895 website
Wed 26th SHREWSBURY  Walker Theatre Tel: 01743 281282 website
Thurs 27th BURY  The Met Tel: 0161 7612216 website
Fri 28th GATESHEAD  Sage Tel: 0191 4434661 website SELLING FAST
Sat 29th SUNDERLAND  The Fire Station Tel: 0191 5700007 website
Sun 30th SCUNTHORPE  Plowright Theatre Tel: 01724 297862 website
Mon 31st NETTLEBED Nettlebed Folk Club Tel: 01628 636620 website
NOVEMBER  
Tues 1st HARPENDEN  Eric Morecambe Centre Tel: 01582 767525 website
Wed 2nd HIGH WYCOMBE  Town Hall Tel: 01494 514444 website
Thurs 3rd STAFFORD Gatehouse Theatre Tel: 01785 253595 website
Fri 4th BARNARD CASTLE The Witham Tel: 01833 631107 website
Sat 5th ALNWICK Playhouse Tel: 01665 660550 website TO BE CONFIRMED
'SEAMLESS' THE NEW ALBUM OUT NOW
 2017 TOUR
We are at the the end of our 2017 tour, and it has been a blast.. 
Our audiences have been fantastic, and we must say thank you for your support, for your appreciation of our efforts, for the wonderful chorus singing we pushed you into, and of course the ridiculous seated communal rowing that you fell for every time. 
This has been the biggest, and most successful Poets tour so far, and we are planning another, but not until autumn 2019. 
Bob is returning to his role as songman, touring the UK in 'Warhorse', Benny is back to the canals, Jez touring solo, and with the Pennies, and I'm taking a 'gap' year to see the world. 
'Pitmen Poets Live' and 'More Black Diamonds' CDs still available from Listen & Buy
Hope to see you all fit and well, and up for some new Poets songs and stories in 2019. 
Billy, Bob, Benny and Jez.
Pitmen Poet's Benny Graham accompanied by Jeremy Corbyn ..great music and great hope for the future.
Featuring BOB FOX, BILLY MITCHELL, JEZ LOWE & BENNY GRAHAM
FROM 'BILLY ELLIOT' TO 'CLOSE THE COALHOUSE DOOR' FROM 'THE PITMEN PAINTERS' TO 'WHEN THE BOAT COMES IN' NOW HEAR THE SONGS AND STORIES OF THE PITMEN POETS PAST AND PRESENT.